First, about my underwater camera... it works again! It's amazing what you can do when you fix operator stupidity (i.e. you can't charge regular batteries with a computer...I thought they were recharable, they were not, so they went dead.). So, now that I'm past the prettiest island so far (Dominica), the damn thing works great! Back in business, nothing to photograph!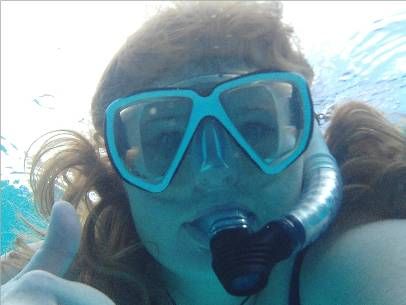 So. Let's talk about Barbados. Sorry to say, unimpressed. I'm not quite sure why I know this particular island better than the others in this chain. I'm quite sure it's more than just because singer Rhianna is from there. We covered a lot of area, but I just didn't feel like I walked away satisfied. Once again, mom and I did a "Best Of" tour (have I mentioned by now that I'm starting to HATE "Best Of" tours?), but not through the ship's excursions. This was another done with http://www.shoreexcursionsgroup.com/, and our tour was a small van of people (I think about 8 of us) and we were with Glory Excursions. The tour guide was knowledgeable, although I wouldn't describe her as particularly friendly.
(Morgan Lewis Windmill)
Our tour was scheduled to be 4 or 5 hours long. As usual on a "Best Of" tour, almost everything was seen out the window of the tour van. We did have 4 brief, 5-minute stops, one on Cherry Tree Hill top with an amazing view (like Mexico and some other countries, no matter where you stop, people will be trying to sell you stuff). The second was at the oldest windmill on the island, the Morgan Lewis Windmill. Then we went to Bathsheba, which is the east coast of Barbados. We had about 15 minutes there, and there was a park on the beach, which would have nice for a picnic if you don't go with a tour. We were there long enough to take some pictures, get rained on, and use the nearby bathroom facilities (Hell no! Not me! I'm a camel! The other train wreck, however, is not.) just before the bigger tour buses got there. It wasn't really enough time to go down on the actual beach for long. Lastly, we went to St. John's church. While there were other Gothic style churches we almost saw along the way (almost!), this was the only one we stopped at. Mom and I were looking forward to this stop because firstly, we loved the Gothic chapels in the UK. Second, there was a geocache there and we wanted to get our one credit for the island. Unfortunately, the larger tour buses beat us to it, so there were a lot of people milling about. It was a very brief stop, so it was either look in the church or go find the geocache. Regretfully, we didn't really have sufficient time to accomplish either.
(cute hut across from Bathsheba Beach)
Now, this tour took approximately two hours. Doesn't quite add up, does it? This is where I felt a bit cheated. We returned to Bridgetown, drove quickly through the historic district and we stopped at a little beach bar called Casablanca. Here we were given the now very well known complimentary rum punch. We liked it. BUT, our tour guide takes us there and says that the two remaining hours of the tour, we will be left here to enjoy the bar and sand beach. If we wanted to stay, she would be back at 1:30 to get us. If we didn't want to stay, we would have to find our own way back to the ship. Um...excuse me? Wasn't that included with the tour? So, sit around wasting an afternoon waiting for the tour guide to come back, or find something else to do. Fine, as the stalwart train wrecks that we are, it didn't take us too long to decide.
After the underwater camera fiasco the day before on Dominca, I was clearly only going to get one chance at snorkeling on Barbados and that was at the Casablanca. So, mom went and found a chair and umbrella and I hit the water with my gear. However, when the tour guide said "sand beach", she was not kidding! There was nothing! Exception, there was a star fish. ONE. I swam around for about 15 minutes in the small area roped off for swimmers, desperately looking for something interesting in the water (I had been told there were some pretty cool ship wreck diving areas around the island, but apparently, we weren't near any). I gave up and went back to the beach. Mom was hot and tired and going into full-on "Betty White" mode (low sugar makes us both grumpy like the Betty White Snickers commercials...we use the term frequently between the two of us), and said she wanted to go back to the ship. I wanted to see more of the historic Barbados district that we had driven through so quickly earlier. After a brief argument, we got a taxi driver (he was wonderful!) who took mom to the dock and then took me back to the historic area.
On route, I asked him for a quick stop at the great Baobab tree. Since I didn't have time to get my geocache credit at St. John's church, this was a back-up plan and I didn't need to have access to Wi-Fi to find it. You have to understand how difficult it is to geocache on islands with crappy satellite and Wi-Fi connections. When I asked my driver to take me there, he knew exactly why I wanted to go. He was so sweet! He even got out of the taxi and helped me look for it. Mission accomplished!
(Baobab tree, aka: Boabab Tree)
I really wanted to see George Washington's house, so he then dropped me off in front of it. I told him I would walk the rather large circle of historic buildings and he offered to return for me at a predetermined time and location. Thankfully, and for whatever reason I don't remember, I had my tennis shoes in my tote bag. Between my train wreck of a body, the flat sandals I was wearing and the underestimated time and distance around the loop, I was hurting about half-way along and changed to my tennies. Relief! Unfortunately, several thing were working against me. Firstly, it was Saturday. George's house was closed. Secondly, the historic loop circles a large horse-racing track and that day just happened to be the inter-island race, which is apparently one of the most anticipated events of the years and so there was all that extra people and traffic setting up for that. Ugh. I stopped by the Barbados Museum and Historical Society, which was open, but I wasn't going to pay the outrageous entrance fee. I continued on and mostly just walked past the other historic buildings, many of which have either been updated to new service buildings or are now private residences.
Like mom, I was hot and tired and the horse race traffic was getting out of control so I decided to just walk back to the ship. Isn't it amazing how close the ship looks in the distance but is really so, SO much further in reality! I figured if I walked along the main road, my taxi driver would see me and stop for me. That is, in fact, exactly what happened. He picked me up and took me to the ship, but only after I'd walked 3.5 miles (according to my pedometer).
By the way, if you are ever in Barbados and need a cab, call Lucas at (246)264-8046. He'll take good care of you!
All and all, I have to say that I was unimpressed with Barbados. And to top it off, the stupid ship was finally having a program I would have liked to have gone to. It was a history of the Bajan people (indigenous people of Barbados). As a history lover and a sociology major, that would have been very interesting. But the idiots on the ship scheduled it WHILE everyone was on shore! Seriously! 3pm? Are you stupid?! Oh, maybe it would have interfered with Bingo or ballroom dancing or some such ship-shit after we left port. Grrrrr. Summary - Barbados is currently on the bottom of the first 3 islands.